When performed by plastic surgeons who understand delicate nasal anatomy, such as Dr. Mustoe and Dr. Sinno, rhinoplasty can be a life-changing procedure for patients who have felt self-conscious about the appearance of their noses for most of their lives. Unfortunately, the results of nose jobs performed by other surgeons don't always match the patient's expectations, and a second surgery—called revision rhinoplasty—is needed.
When Is Revision Rhinoplasty Necessary?
Before discussing specific reasons why you may want to consider revision rhinoplasty, you should know that it may take a year after surgery before you see the final results of a rhinoplasty procedure. Even though the initial swelling dissipates within a few months, residual swelling persists for much longer. So, it's important to wait before assessing if the outcome isn't what you wanted.
That said, here are some of the most common reasons why nose job patients seek revision rhinoplasty:
Cosmetic concerns: Even though there isn't one single factor that results in someone seeking revision rhinoplasty, the most common problem is an unnatural or "operated on" appearance. If you're not satisfied with the result of your initial rhinoplasty after a year, revision rhinoplasty can address these concerns by refining the shape and size of the nose.
Breathing problems: If an initial rhinoplasty procedure causes a blocked nasal passage, making breathing difficult, revision rhinoplasty can correct this by removing any excess tissue or cartilage.
Complications: Complications such as infection or bleeding are rare but can occur. Revision rhinoplasty can address these issues.
Injury: Noses are notoriously vulnerable, and they can be even more susceptible to a traumatic injury in the first year or 2 after rhinoplasty surgery because the cartilage and tissue are restructured. If you suffer an injury to your nose, revision rhinoplasty can address cosmetic and functional concerns.
Revision Rhinoplasty vs. Primary Rhinoplasty: What's the Difference?
Even though revision rhinoplasty and primary rhinoplasty procedures share some similarities, they differ in a few key ways. These differences are why you should choose a plastic surgeon who is a rhinoplasty specialist.
To begin with, revision rhinoplasty is more complex than standard rhinoplasty—which itself is technically demanding. During revision rhinoplasty, the surgeon has to work with the existing structure of the nose. Scar tissue or a weakened structure following the initial surgery are common challenges. The distorted, weakened nasal anatomy often requires the surgeon to rebuild the nose, typically using structural cartilage grafts taken from the ear or rib.
Another difference is that revision rhinoplasty results are less predictable than standard rhinoplasty. This leads to another difference: patients are sometimes more anxious both before and after the surgery. The negative experience following their first rhinoplasty remains fresh in their memories, and they may expect the worst.
Finally, revision rhinoplasty is more expensive than primary rhinoplasty (also adding to a patient's anxiety.)
Does Revision Rhinoplasty Take Longer to Heal?
Prospective revision rhinoplasty patients understandably have questions about the procedure. One of the most frequently asked questions concerns the expected recovery time. The recovery time for revision rhinoplasty can vary from patient to patient, but it generally takes longer than standard rhinoplasty. This is because the surgeon deals with scar tissue during revision rhinoplasty, which can be more delicate and prone to swelling. Additionally, the nose may be more sensitive to touch after revision rhinoplasty, which can prolong recovery. Patients can expect some swelling, bruising, and discomfort after the surgery, but these symptoms should gradually improve over the course of a few weeks. Closely following the post-operative instructions provided by our surgeons helps ensure a smooth and successful recovery.
How Common Is Revision Rhinoplasty?
The exact number of revision rhinoplasty procedures performed each year is difficult to determine as there is no centralized database for cosmetic surgery statistics. Between 5% to 15% of rhinoplasty patients are estimated to require revision surgery.
One study found an average revision rate of 9.8%. In another survey of plastic surgeons, the majority of surgeons reported a revision was necessary in 0% to 5% of cases. With 352,555 rhinoplasties performed in the U.S. in 2020 (American Society of Plastic Surgeons), an estimated 17,627 and 34,550 people likely opted for a revision in 2021, the most recent data available.
For patients who choose a rhinoplasty specialist, such as Dr. Mustoe or Dr. Sinno, for their primary procedures, the chances of needing revision surgery are extremely low. Both surgeons have excellent track records for rhinoplasty results.
Be Proactive to Avoid Revision Rhinoplasty
You can take steps to minimize the chances of needing revision surgery after your first rhinoplasty. Take your time and carefully research plastic surgeons. One of the best ways to start your research is by looking through online photo galleries. To see further examples of the rhinoplasty results our surgeons produced, please visit Dr. Mustoe's before-and-after photo gallery and Dr. Sinno's before-and-after photo gallery. It's may also be helpful to read what actual patients say about their experiences with Dr. Mustoe and Dr. Sinno.
If you're unhappy with the results of rhinoplasty performed by another surgeon and are considering revision rhinoplasty, Dr. Mustoe and Dr. Sinno are highly regarded as 2 of the leading rhinoplasty specialists in Chicago. You can meet with one of our surgeons to discuss your concerns by requesting a consultation using the online form. Or call us at (312) 788-2560 to have a member of our team help schedule your appointment.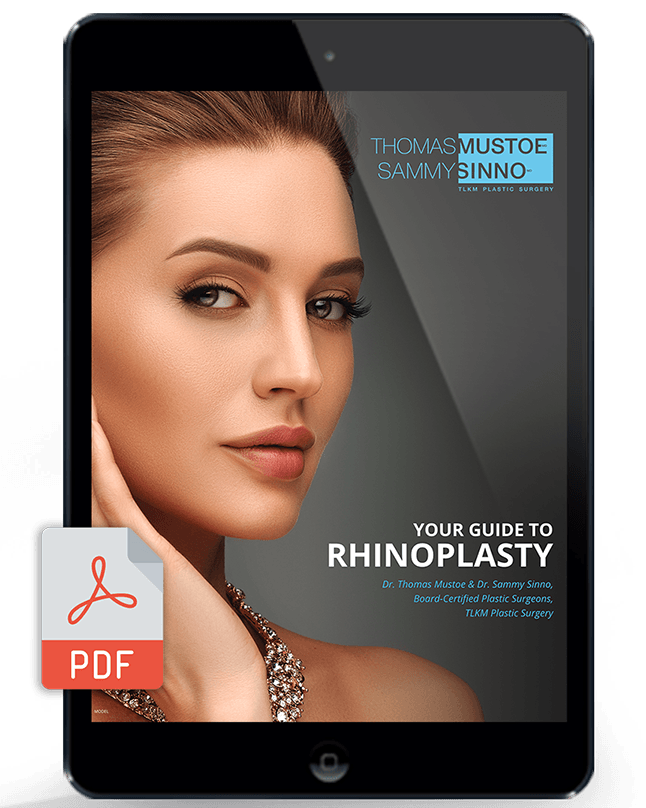 Your Guide to Rhinoplasty
Download Our Complimentary e-Guide
Ready to start your journey to your best nose? Get all the information you need about rhinoplasty when you download our free e-Guide, Your Guide to Rhinoplasty. Inside, you will find answers to all your questions about nose surgery, from how to be sure it is right for you to what to expect before, during, and after surgery.