Why Choose Dr. Mustoe
Procedures Performed
By Dr. Mustoe
2,000+
Breast Augmentations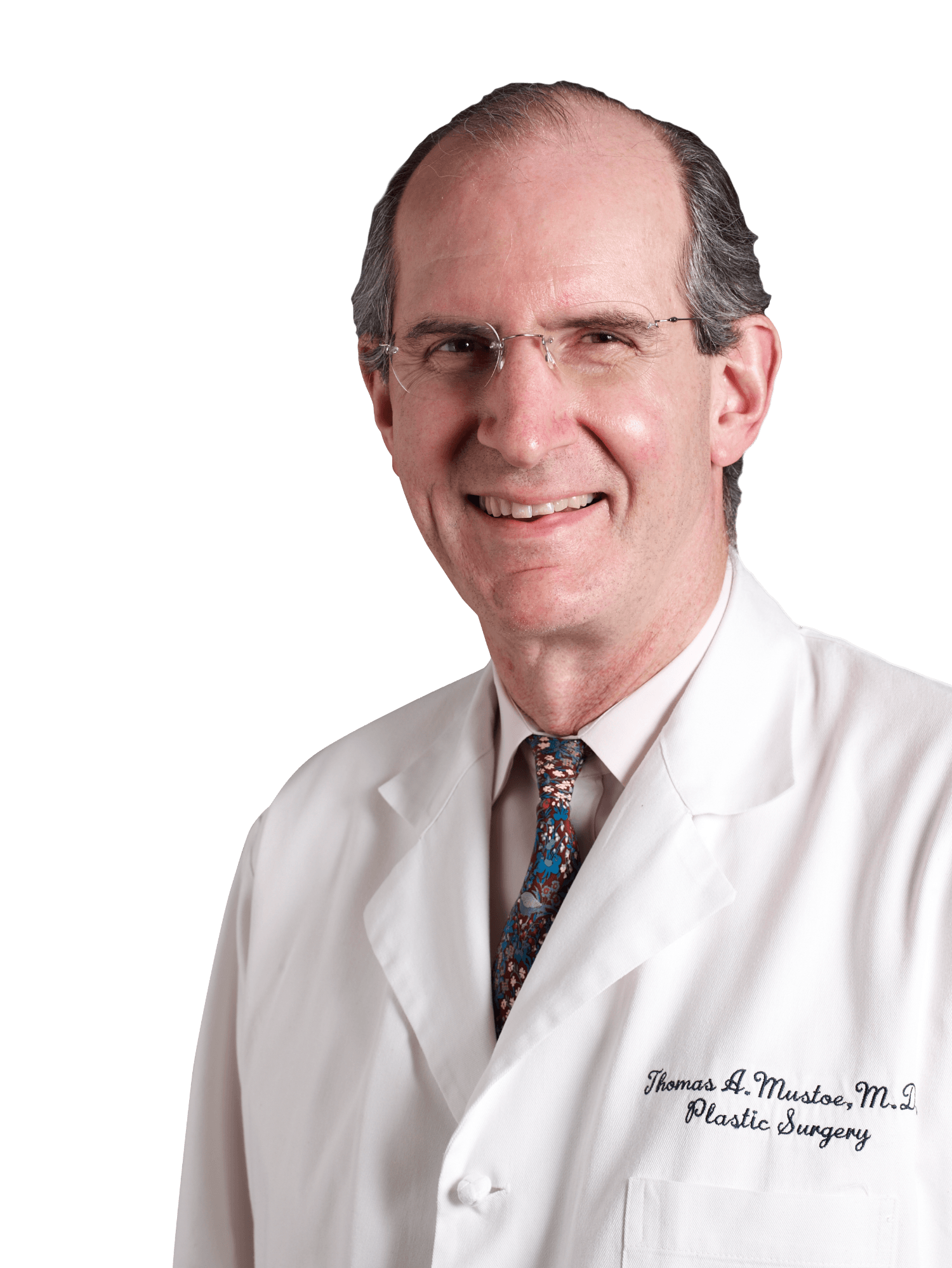 Once you have decided to enhance your appearance through cosmetic surgery, your concerns turn to safety, comfort, and results – and choosing from among qualified plastic surgeons in Chicago to help you achieve those goals. You owe it to yourself to select a board-certified plastic surgeon with the highest level of integrity and skill, one who has the experience and reputation to inspire your confidence. For thousands of patients throughout the country, Dr. Thomas Mustoe has met and exceeded those criteria.
A Personal Connection and Excellent Reviews
From their first visit, Dr. Mustoe's patients are immediately put at ease by the wonderful office staff members and his warm, caring personality. He is a Chicago plastic surgeon who takes the time to listen intently to each of his plastic surgery patients and truly understand what they hope to achieve. He understands that, for you, this is both a physical and an emotional journey. He will draw from his years of experience and volumes of research to help guide you toward the treatment plan that will achieve the results you desire.
Dr. Mustoe believes that plastic surgery should be completely transparent, meaning that the results should enhance your appearance in a way that is balanced and complimentary. He is able to achieve results that are noticeable but natural-looking.
With over 1,000 reviews touting Dr. Mustoe's skill and results, there's no doubt why so many patients in Chicago and beyond select Dr. Mustoe. People repeatedly mention how his experience, education, bedside manner, and dedication to delivering great results won them over. There's no doubt why even doctors themselves choose Dr. Mustoe for their surgery.
Innovative Techniques for Improved Outcomes
Dr. Mustoe's extensive research into wound healing and scar prevention gives him a unique ability to achieve optimal results with minimal tissue injury during surgery. He has been passionate about developing careful surgical techniques which reduce bruising, speed recovery, and lead to more predictable outcomes. Most often, he uses local anesthesia with sedation. The depth of the sedation can be tailored to the patient and the surgery, providing them the choice of using general anesthesia. However, the advantages of decreased nausea, faster recovery and gentler techniques of surgery have major advantages for local anesthesia. For many procedures, such as rhinoplasty and tummy tuck surgery, he uses innovative techniques that improve comfort, safety, and results for his patients. With Dr. Mustoe, you get the benefits of a "full" procedure with the shorter, more comfortable recovery of a "mini" procedure.
An International Authority on Plastic Surgery
Dr. Mustoe has an excellent reputation as one of the most accomplished cosmetic plastic surgeons in Chicago. He lectures nationally and internationally, and is renowned for his dedication to academics, research and innovation in the field of plastic surgery. The more than 200 articles and book chapters he has written have helped advance the science and art of plastic surgery. He has also been featured in the media on numerous occasions – including an appearance on Chicago's own Oprah Winfrey Show – as a recognized authority on plastic surgery. He has been named to many local and national best doctor lists, and operates on many physicians and their families.
Experience & Leadership
Dr. Mustoe has performed more than 10,000 operations, through which he has refined both his surgical skills and his aesthetic sense. As a Stuteville Professor at Northwestern University and Chief of Plastic Surgery from 1991-2010, he trains some of the best and brightest future plastic surgeons at one of the nation's top plastic surgery residency programs. His influence has shaped the plastic surgery community as a whole, and continues to spur innovation and advances in the field of plastic surgery.
However, Dr. Mustoe is committed to his patients above all else, and works long hours at his busy practice to meet their needs.
Your Next Step
The best way to know if a doctor is a good fit for you is through a consultation. If you would like to meet with board-certified plastic surgeon Dr. Mustoe, request a consultation online for plastic surgery at his downtown Chicago offices. Or you can call our practice at (312) 788-2560 and one of our helpful staff members will schedule your appointment.