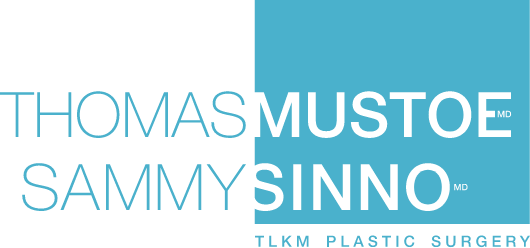 TLKM Plastic Surgery
737 North Michigan Avenue #1500
Chicago, IL 60611
Phone: (312) 788-2560
Monday, Wednesday, Thursday, Friday: 8:30 a.m.–5 p.m.
Tuesday: 8 a.m.–6 p.m.

Fees & Financing
If you're considering visiting us for cosmetic plastic surgery in Chicago, it's only natural for cost to be a consideration. However, we believe that you cannot put a dollar value on the high quality care and results you get with Dr. Thomas Mustoe and Dr. Sammy Sinno. The peace of mind that comes with choosing a board-certified plastic surgeon who has an excellent reputation and outstanding qualifications is something that our patients consider invaluable.
If you would like to learn more about how our surgeons can improve your appearance through plastic surgery, request a consultation at our downtown office. Or you can call our practice at (312) 788-2560 and one of our helpful staff members will schedule your appointment.
Priceless Results
Unlike other Chicago plastic surgery practices, we don't rely on specials, incentives, or promotions to bring patients through our doors. Dr. Mustoe and Dr. Sinno maintain a busy practice, in large part due to patient-to-patient referrals, as well as referrals from other physicians. Although we don't offer discount pricing, we do offer:
Beautiful, transparent results
Reduced discomfort, downtime, and scarring
Reasonable pricing
At your consultation, your surgeon will discuss your specific needs, and help you determine which procedure or procedures will best achieve your goals. At this time, we will discuss surgical fees and costs associated with your procedure. Since each procedure and patient is unique, we prefer not to quote fees prior to your consultation.
Consultation Fee
Dr. Mustoe's and Dr. Sinno's consultation fee of $200 is required at the time your appointment is scheduled. The purpose of the consultation is to determine which way to proceed. Through the process of listening to you, understanding your aesthetic expectations, conducting an examination, and a discussion of options, Dr. Mustoe or Sinno will make an appropriate recommendation.
A credit card number is taken for cosmetic consultations at the time your appointment is made.
If you are unable to maintain your scheduled appointment, we kindly ask that you provide us with at least 48 hours' notice. Failure to do so will result in a $200 fee processed to your credit card.
The consultation fee can be applied to surgical procedures, other than minor procedures in the office.
Payment Options
Payment options include cash, checks, and all major credit cards.
Alphaeon Credit
We also offer financing through Alphaeon Credit, a convenient option designed by doctors with their patients in mind.
Alphaeon provides a variety of payment plans to suit your lifestyle and allow you to afford the care your physician recommends.
Call 1-855-497-8166 more information or apply online.
Payment Policies
TLKM Plastic Surgery, LLC accepts payment by cash, check or credit card.
A credit card number is taken and payment is transacted for cosmetic consultations at the time it is scheduled. This fee will only be refundable if you give us at least 48 hours' notice to reschedule or cancel your appointment.
Once seen by your surgeon, your consultation fee is non-refundable, and may be applied towards surgical procedures costing greater than $2,000.
Payment for non-surgical procedures is due at the time of service.
A surgical deposit is required in order to reserve a surgery date. The following cancellation policy will apply:
Cancellation at least 2 weeks prior to surgery date – Full Refund of Deposit
Cancellation less than 2 weeks prior to surgery date – Forfeiture of Deposit and $500 Rescheduling Fee
All fees must be paid prior to confirming any new surgical date.
Cancellation 2 days or less before surgery – Forfeiture of 50% of the Surgeon's Fee
There will be no funds held back in the event of a rescheduling or cancellation by us, or in the event of a documentable medical reason with a treating doctor's statement.
All surgical fees must be paid no less than two weeks prior to the date of your surgery. The surgical center and hospital fees will be billed directly to you, the patient, by the facility. Each facility has specific payment policies that will be defined during the surgery scheduling process.
Back to Top