Meet the Staff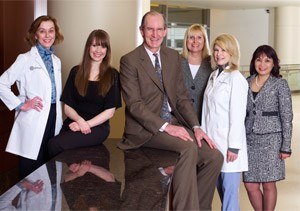 Specializing in cosmetic plastic surgery in Chicago, Dr. Thomas Mustoe and Dr. Sammy Sinno have chosen an outstanding, knowledgeable staff to make patients comfortable and keep things running smoothly. At TLKM Plastic Surgery, we are very proud of our team's high level of professionalism, and combined years of experience. Our dedicated staff will make you feel welcome, confident, and valued throughout your experience with us.
---
Receptionist— Debbie McCain has been the receptionist for Northwestern Plastic Surgery for almost 6 years. She enjoys interacting with the patients and working with the surgeons and staff. Prior to working at NMFF, she worked at Rush Anchor Medical Group, Meyer Medical, Palos Immediate Care Center, and Orthodontic Associates. She has worked in health care and customer service for over 20 years. In her free time, Debbie volunteers in church, school, and her community.
---
Assistant— Katie Freund is a graduate of Indiana University – Bloomington with a B.S. in Psychology. She began working in the Division of Plastic Surgery at the Northwestern Medical Faculty Foundation in September 2010. Before working in the medical field, Katie coordinated the day-to-day operations and fundraising events of two volunteer boards at Lincoln Park Zoo. Katie was born and raised in the suburbs of Chicago and currently lives in Chicago.
---
Assistant— After earning her B.A. in Marketing and Management at San Sebastian College, Manila, Philippines, Bituin migrated and worked in Germany for several years. When Bituin moved to the United States to join her family in Chicago, Illinois, she began working at Northwestern Medical Faculty Foundation as a medical secretary to the Department of Neurosurgery for 2 years. Since January 2003, she has worked as an assistant to Dr. Mustoe. Bituin finds working in plastic surgery exciting, challenging, and educational. The rewarding part of it? She gained a lot of friends!
---
Nurse— Beth has been working with Dr. Mustoe for 15 years. She received her nursing education at Lutheran General Hospital School of Nursing and continued on to receive both Bachelor and Master of Science degrees from the University of Illinois. Before coming to Northwestern, Beth worked in gynecologic oncology at Rush University Medical Center. She was a member of the nursing faculty at Alverno College in Milwaukee and has had experience as an operating room nurse with a focus on open heart surgery.
---
Esthetician— Cindy, a skin health expert, has been working with Dr. Mustoe for 9 years. She began her career with an extensive background in dermatology and has a comprehensive knowledge of skin diseases and disorders. Cindy is passionate in her commitment to healthy skin and finding a solution to our patients' skin health concerns. She devotes her practice to using the most advanced and medically formulated skincare products for those seeking real solutions to skin concerns.
Cindy's background in lasers enables her to offer patients a variety of laser therapy treatments. She is a member of the American Society of Laser Medicine and Surgery and the National Council of Laser Excellence.
She also provides nipple-areola complex micropigmentation for breast reconstruction patients. This patient service is the final phase of breast reconstruction. Women who have been through breast cancer can regain their body image and self-esteem through this restoration procedure. The tattoo significantly improves the final appearance of the reconstructed breast. Cindy is a member of The American Academy of Micropigmentation.
Request a Consultation With Cindy
---
Along with plastic surgery, our office provides cosmetic tattooing as well as laser procedures for facial veins, rosacea, sun damage, and hair removal. Microdermabrasion and chemical peels are also available.
If you would like to find out more about our Chicago plastic surgery team, click here to request a consultation online at our downtown Chicago offices. Or you can call our practice at (312) 788-2560 and one of our helpful staff members will schedule your appointment.