Professor & Inventor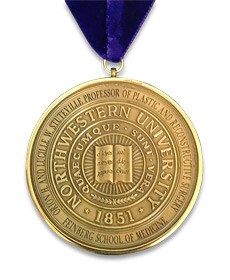 Dr. Thomas Mustoe does much more than perform plastic surgery procedures in Chicago. As a professor of plastic and reconstructive surgery at Northwestern University, he doesn't just follow innovations in the field – he helps shape them. Because the discipline of plastic surgery is constantly evolving, his professorship provides him with the unique opportunity to stay ahead of the curve and gain a comprehensive understanding of new products, procedures, and techniques as they develop.
In his more than 30 years of teaching and practicing plastic surgery, Dr. Mustoe has expanded his own understanding while sharing his experience with others. He has contributed to textbooks and authored hundreds of academic research publications to help others develop better, more effective treatments for common cosmetic concerns as well as complex reconstructive challenges.
A History in Academia
As an honors graduate of Harvard University and Harvard Medical School, Dr. Mustoe is no stranger to rigorous educational standards. During his medical training, he spent an extra year as a research fellow in the laboratory of Dr. Bernard Fields. His research on the genetics of reovirus would earn him the Somas Weiss Award in 1978.
After residencies at Massachusetts General Hospital, Peter Bent Brigham Hospital, and Brigham and Women's Hospital, Dr. Mustoe began his teaching career as an associate professor at Washington University. In 1991, he arrived at Northwestern University and worked as a professor and Chief of the Division of Plastic Surgery. Today, he continues his professorship and enjoys a reputation as one of the top plastic surgeons in Chicago.
Over the years, his academic career has extended beyond Northwestern University. As a visiting professor at multiple universities, he's lectured on techniques in cosmetic and reconstructive surgery, as well as conscious sedation, scar minimization, and clinical applications of his own research. He uses the knowledge and insight he's gained as a professor and lecturer in his own plastic surgery practice.
Pioneering Researcher & Inventor
The bulk of Dr. Mustoe's research has focused on wound healing, a complex element of any surgical procedure. Funded continuously by the National Institutes of Health since 1989, he's authored more than 150 peer-reviewed publications, as well as multiple invited articles and book chapters. He has also served on the editorial boards of Archives of Surgery, Plastic and Reconstructive Surgery, Journal of the American College of Surgery, and Wound Repair and Regeneration.
As the owner of multiple U.S. patents related to wound healing and the co-creator of anti-scarring and wound healing agents, Dr. Mustoe is committed to advancing the field and improving the recovery experience. Read more about Dr. Mustoe's innovations through his publications.
To meet with Dr. Mustoe in person and discuss your cosmetic needs, please request a consultation or call (312) 788-2560.