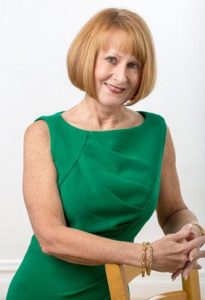 As a busy 63-year-old philanthropist, Donna didn't have time for breast cancer. So when she found a lump in her breast in 2010, she was compelled to act quickly. "Doctors don't usually consider breast cancer to be an emergency situation," she says. "But when you're the patient, you just want to treat it and move on as quickly as possible."
Imperfect Beginnings
The Fox Valley resident, who already had a decades-long working relationship with her husband's oncologist, had been aware of Dr. Mustoe's reputation as a leading plastic surgeon in Chicago for several years. "He's always featured in our local magazines," she says. "He wins top doctor for his field almost every year." She was so confident in his abilities that she even sent a friend to him for elective surgery long before her breast cancer diagnosis. "My friend was very happy with her results," Donna says.
Unfortunately, Dr. Mustoe was out of the country when Donna contacted his office for the first time, and he was unable to perform her breast reconstruction. "Even though he couldn't do my surgery," Donna says, "they followed up with me a couple of weeks later to make sure I had found a doctor. They were very proactive and very caring, and I wasn't even a patient at that point." She sought the services of another plastic surgeon.
After a mastectomy, 3 reconstructive surgeries, and a round of chemotherapy, her 4th reconstructive procedure left her breasts noticeably asymmetrical. The silicone implant used in her reconstructed breast had also started to ripple, a phenomenon that creates a wrinkled appearance. "The last surgery went on for an hour longer than predicted, and when I woke up, I was a B-cup on one side and a D-cup on the other." After such a lengthy recovery process, Donna was frustrated with her results. "You don't realize how many things are affected by an asymmetrical bustline. I just wanted to be able to wear all my clothes and bras again, and I couldn't."
A follow-up appointment with her plastic surgeon failed to resolve her concerns. "He asked me how bothered I was by the asymmetry and the wrinkles. When I told him I wanted it fixed, he just sighed. I could tell he was frustrated with the situation." Donna was initially apprehensive about finding a new surgeon, but imagining another woman in the same scenario was a wake-up call. "If anyone close to me was going through the same thing, I'd tell her to take it to someone else." Donna had found the motivation she needed to contact Dr. Mustoe again.
Like Nothing Ever Happened
At the time, Donna wasn't aware that reconstruction revision was an option. "I just knew something needed to be done," she says. During her first consultation, Donna knew she was on the right track.
Dr. Mustoe carefully explained the muscle complication that contributed to her asymmetry, and laid out a detailed plan to fix it. "He was kind, sympathetic, and felt that my expectations were reasonable. He understood that I didn't want to have the breasts of a 23-year-old. I just wanted to look normal."
Dr. Mustoe revised the rippled implant in Donna's reconstructed breast. He also added a small silicone implant in her healthy breast to maintain symmetry in not only the size, but the projection of her breasts.
Today Donna, who is cancer-free, can't say enough good things about Dr. Mustoe or her surgical results. "He has the perfect mix of right and left brain. He has an artistic vision, but he balances it with concise, matter-of-fact assessments that are spot-on."
A major milestone in her recovery came when Donna attended a black-tie gala soon after her surgery. "I wore a spaghetti-strap evening gown that I hadn't worn since before I had cancer," she says. "It fit me perfectly, like nothing had ever happened."
For Donna and other breast cancer patients, returning to a normal appearance after a mastectomy is worth its weight in gold. For those in the midst of cancer, she says that focusing on yourself can make a world of difference. "I tried to stay off the Internet. I didn't want to read stories that weren't going to end as well as mine did. I kept doing all the things I loved, and I tried to keep myself healthy. Everything I needed to know about my condition, I saw in the mirror."