Meet Dr. Mustoe
Thomas Mustoe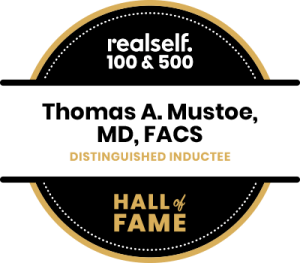 Plastic surgery is a big decision that will have a significant impact on your life. It's important to feel comfortable that you are in good hands. When entrusting your body or face to a plastic surgeon in Chicago, you should be sure that you have chosen a renowned and accomplished surgeon whose credentials and reputation inspire your confidence. In his many years as a board-certified plastic surgeon, treating thousands of patients and training the best minds in plastic surgery, Dr. Thomas Mustoe has earned the respect of patients and physicians alike.
To learn more about what sets Dr. Mustoe apart from other plastic surgeons in Chicago, visit the following pages:
If you would like to meet with Chicago plastic surgeon Dr. Mustoe, request a consultation
online, or you can call us at (312) 788-2560 and one of our helpful staff members will schedule your appointment.

Rigorous Education & Training
Thomas A. Mustoe, M.D., graduated from Harvard College cum laude and Harvard Medical School cum laude. He took an extra year as a research fellow in the laboratory of Bernard Fields, M.D., working on the genetics of reovirus, and was awarded the Somas Weiss Award for his work as the best medical student research presentation in 1978 at Harvard.
He completed his internship at Massachusetts General Hospital and his 2nd-year residency in surgery at Peter Bent Brigham Hospital. He went on to complete residencies in otolaryngology at the Massachusetts Eye and Ear Infirmary, and plastic surgery at the Brigham and Women's Hospital, where he also served as Chief Resident. He is board certified in both otolaryngology and plastic surgery.
A Distinguished Career
Dr. Mustoe started his career at Washington University rising to Associate Professor after 4 years, and leaving after 6 years to come to Northwestern University as Professor and Chief of the Division of Plastic Surgery in 1991. He has retained that position for 19 years and planned to step down in 2010. During his tenure, the clinical volume in plastic surgery at Northwestern University Hospital has tripled, and the plastic surgery residency program has become one of the most competitive programs in the country, and one of a very few programs that set aside and fund a required year for research.
Singled out from other Chicago plastic surgeons, Dr. Mustoe has been named annually to multiple Best Doctors lists both locally and nationally for the last 16 years, and carries on a busy clinical practice focused on aesthetic surgery. He has written multiple papers on his surgical techniques in facial reconstruction, breast reconstruction, aesthetic surgery, and techniques for local anesthesia and conscious sedation.
Advancing the Field of Plastic Surgery
Dr. Mustoe's research has focused on wound healing, looking both at mechanisms for impaired healing that result in chronic wounds and in excessive healing that results in fibrosis and scarring. He has been funded continuously by the NIH since 1989, and has authored 158 peer-reviewed publications as well as multiple invited articles and book chapters. He has served on the Editorial Boards of Archives of Surgery, Plastic and Reconstructive Surgery, Journal of the American College of Surgery, and Wound Repair and Regeneration.
He served as President of the Wound Healing Society and received their Lifetime Achievement Award in 2006. He has also served as Scientific Program Chair for 3 years for the Annual Meeting of the American Society of Plastic Surgery and currently serves on the Board of Directors of the American Board of Plastic Surgery. He has been a Visiting Professor at multiple institutions, lecturing on techniques in facial, breast, and abdominal cosmetic surgery, as well as conscious sedation, techniques to optimize scarring, and clinical applications of wound healing research. Dr. Mustoe uses this in-depth knowledge in his work as a plastic surgeon.
For more information about Dr. Mustoe's education and accomplishments, download his CV.
Dr. Mustoe's Favorite Procedures
While Dr. Mustoe has extensive experience performing a range of cosmetic procedures, some of his specialties include:
A Family Legacy
Dr. Mustoe's wife, Kathryn Stallcup, has a Ph.D. in microbiology from Harvard University and is a long-time employee of Northwestern University, currently serving as Executive Director of the Chicago Biomedical Consortium. Their son Anthony is a graduate of Washington University and has begun work on a Ph.D. in Biophysics at the University of Michigan. Their daughter Elisabeth is a junior at Northwestern, majoring in political science.
Read what our patients say about Dr. Mustoe at www.drthomasmustoereviews.com.