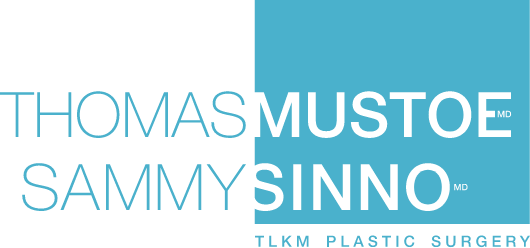 TLKM Plastic Surgery
737 North Michigan Avenue #1500
Chicago, IL 60611
Phone: (312) 788-2560
Monday, Wednesday, Thursday, Friday: 8:30 a.m.–5 p.m.
Tuesday: 8 a.m.–6 p.m.

Breast Enhancement
If you are like many women, your breasts are an integral part of your body image and can be an important factor in feeling self-assured and attractive. Every woman deserves to feel good about her breasts, and to be confident in her femininity and sensuality. Dr. Thomas Mustoe and Dr. Sammy Sinno specialize in breast surgery, such as breast augmentation, for Chicago women who want to achieve an improved breast size and shape. Options include:
Breast enhancement is not just about size, it is also about the shape, feel, and position of the breasts. Through the more than 3,000 breast surgeries they have performed as breast surgeons in Chicago, Dr. Mustoe and Dr. Sinno have refined both the technical skill and the artistic vision necessary to create beautiful results. Dr. Mustoe has developed innovative techniques to assure that tissue damage and scarring are minimized, resulting in improved comfort and outcomes for his and Dr. Sinno's patients.
View Before & After Photos
If you would like to meet with board-certified plastic surgeons Dr. Mustoe or Dr. Sinno, request a consultation online at his downtown Chicago offices. Or you can call our practice at (312) 788-2560 and one of our helpful staff members will schedule your appointment.
Back to Top