One of the biggest concerns patients have about getting a nose job (rhinoplasty) is recovery. Chicago men and women who consult with us are worried the recovery will be uncomfortable and that they'll ruin the results if they sneeze or blow their nose even once. That's not true, although you can take several steps to help your recovery go as smoothly as possible.
How To Speed Up Rhinoplasty Recovery
1. Keep your head elevated.
Although we've developed specialized techniques that help minimize discomfort and bruising, elevating your head will also help reduce swelling and let you heal more quickly. It's especially important in the first three days following surgery. Some patients find it's easier to sleep in a recliner to keep their head elevated at night, but pillows, backrest pillows, and bed wedges work well to prop up your upper body, too.
2. Use ice packs.
Cold, but not wet, compresses help reduce bruising during the 8 to 12 hours after surgery. After that, they can be helpful to relieve discomfort. Your nose tissue is vulnerable after surgery, so be sure to use a lightweight cold pack and cover it with a cloth so the cold temperature doesn't damage your skin.
3. Keep your incisions clean.
Clean the incision at the end of your nose, and just inside twice daily with a wet cotton tip to get all crusts off, and then apply an OTC antibiotic ointment. This will help prevent infection and keep the airway more open.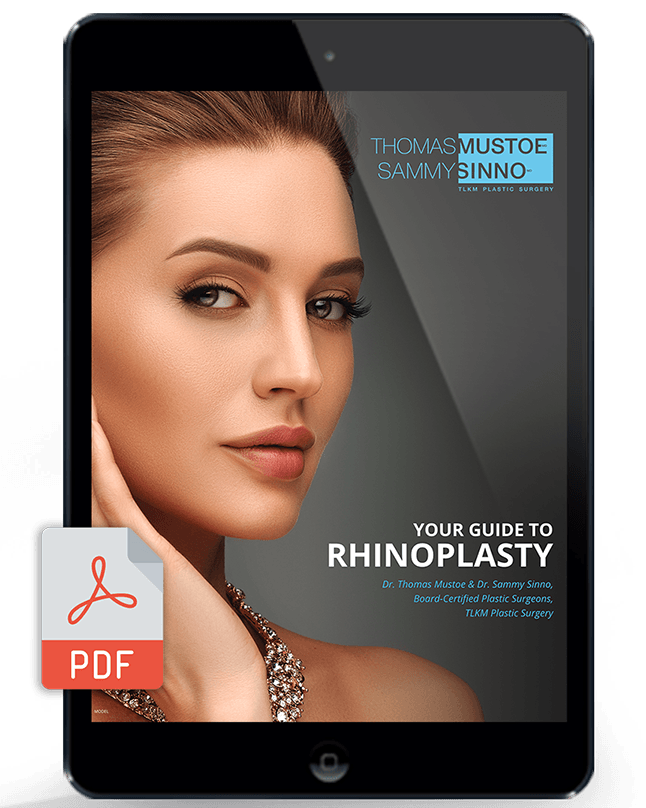 Your Guide to Rhinoplasty
Download Our Complimentary e-Guide
Ready to start your journey to your best nose? Get all the information you need about rhinoplasty when you download our free e-Guide, Your Guide to Rhinoplasty. Inside, you will find answers to all your questions about nose surgery, from how to be sure it is right for you to what to expect before, during, and after surgery.
4. Take your medications.
Most of our patients find they get effective pain relief from over-the-counter medications. If your discomfort is more severe, our surgeons can prescribe stronger options. Occasionally we prescribe an antibiotic. In either case, it's important to take your medications as instructed.
5. Blow your nose gently
As we mentioned earlier, most patients believe they can't blow their noses at all. We advise patients to blow gently when necessary. Most of our patients don't require nasal packing unless extensive internal work for breathing problems was required.
6. Restrict exercise.
Strenuous workouts cause you to breathe hard and your heart rate to rise, which will disrupt your recovery. It's a good idea to minimize your activities for a week, and then gradually return to your normal exercise routine.
Rhinoplasty recovery does take some time, but most patients report that it's not as challenging as they expected and it's well worth the results they achieve. You can see these results for yourself in Dr. Mustoe's rhinoplasty patients' before and after pictures and Dr. Sinno's nose job patients' photos.
We also answer many frequently asked rhinoplasty questions on our Rhinoplasty FAQ page and in our free Rhinoplasty e-guide.
Get Started
If you're considering rhinoplasty surgery and searching for the best plastic surgeons in the Chicago area, we'd be happy to talk with you about your options. You can request a consultation with our online form or call us at (312) 788-2560 to schedule an appointment.