The days of stretched, tight, or "windblown" facelifts are over. While facelifts of the past centered around tightening only the skin to rejuvenate the face, today's techniques reach deeper to create longer-lasting and more natural-looking results. As board-certified plastic surgeons and two of the best-reviewed facelift surgeons in Chicago, Dr. Thomas Mustoe and Dr. Sammy Sinno not only use these techniques but also innovate them. The surgeons use a modified deep-plane approach developed by Dr. Mustoe to turn the clock back by a decade without conveying any obvious signs of surgery.
What do these modern facelift results look like? Keep reading to see real examples of just how effective and undetectable today's facelift really is.
Maintaining Unique Features
This facelift performed by Dr. Mustoe breathes new life into this woman's look without altering any of her distinctive and striking features. She still looks like herself, but subtly lifting and defining her jawline and neck took years off her appearance and gave her a brighter, more vibrant, even happier expression.

Smoothing Away Lines & Folds
This woman looks a decade younger after her facelift by Dr. Mustoe. Lifting the tissues of her face not only rejuvenated her jawline and neck but also smoothed away the deep nasolabial folds running from the sides of her nose to her mouth. These folds are a common sign of aging, and people often benefit from added fat transfer or dermal fillers injected into this area to fill out the lines and maintain their facelift results.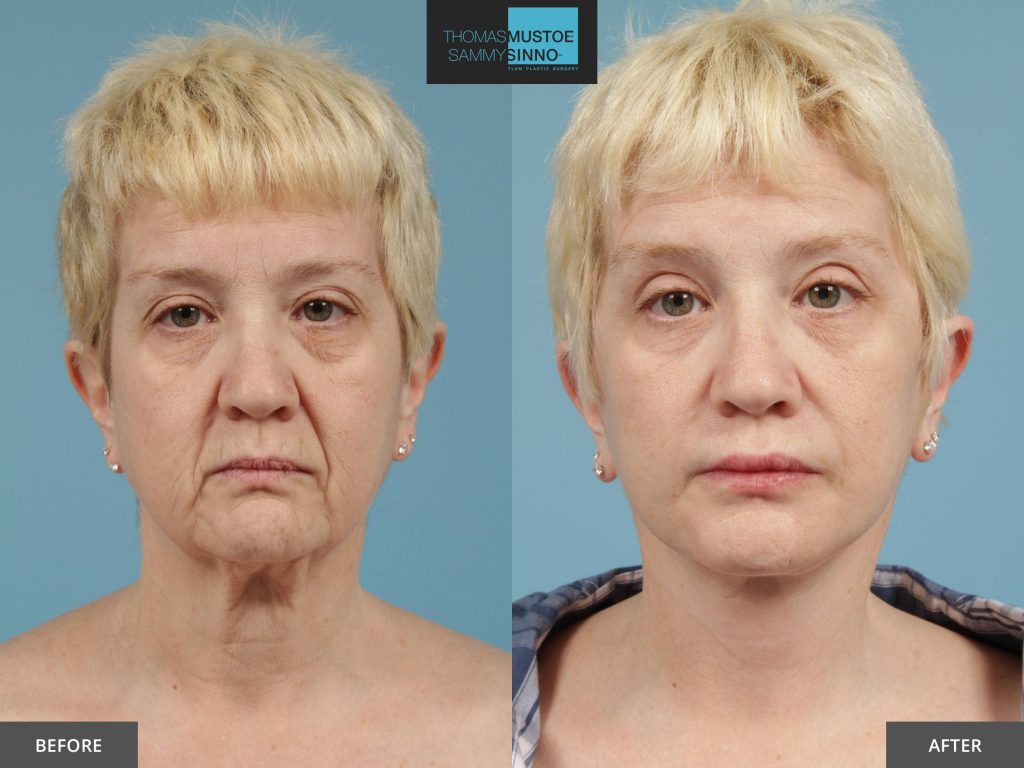 Restoring a More Youthful Face Shape
This woman's facelift by Dr. Sinno reestablished her natural face shape by tightening the drooping tissues on her lower face and jawline. This reduced the appearance of jowls, gave her cheeks a firmer and fuller contour, and created a subtly lifted look to combat the effects of gravity and aging on her face.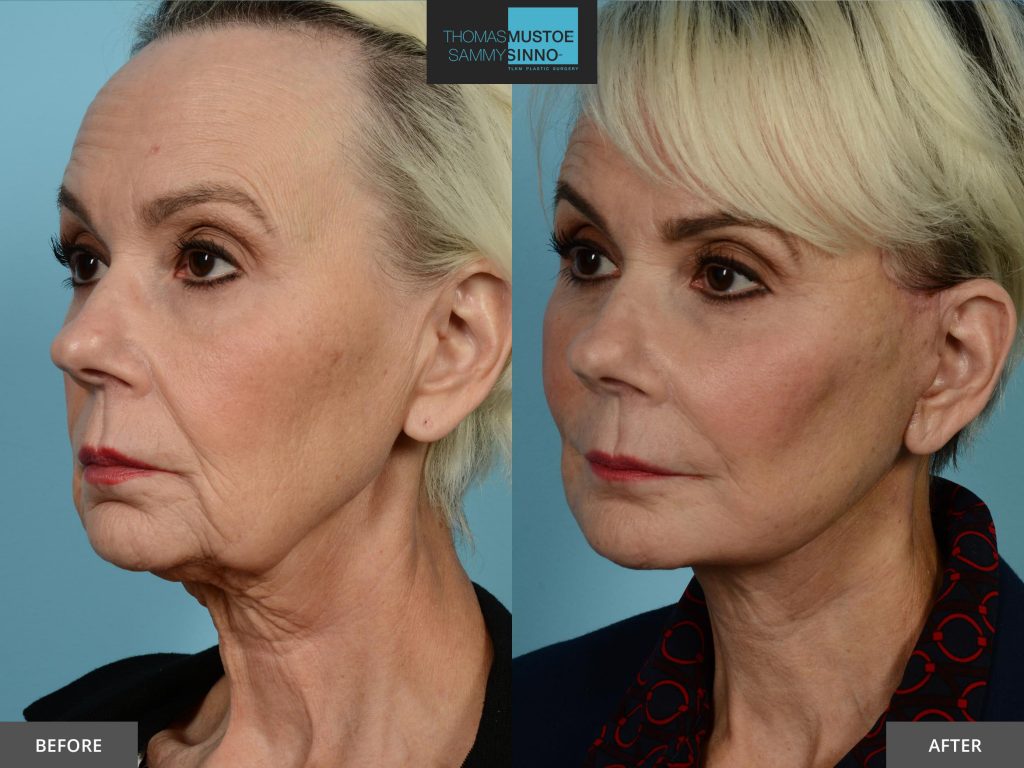 Catching Signs of Aging Early
Although this woman didn't have severe signs of aging to begin with, her facelift by Dr. Sinno subtly lifted and smoothed her face to maintain her youthful features. Starting with a facelift or mini facelift early on is an excellent way to stay on top of facial aging and preserve a youthful look for longer.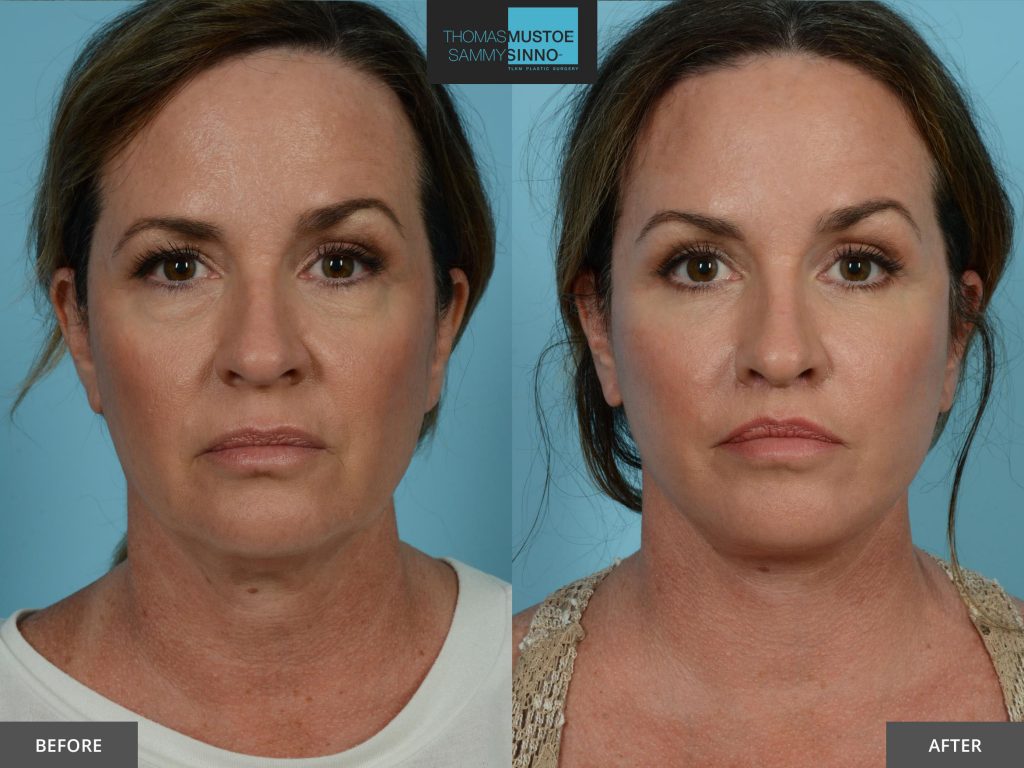 Rejuvenating the Jawline
This woman's facelift by Dr. Mustoe shows a beautiful jawline transformation achieved by removing and tightening excess skin along the lower face and neck. Dr. Mustoe also performed a brow lift to open up her eyes and help her appear more awake and rested. Because a facelift only addresses the mid to lower face, many people choose to complete their results with an upper face rejuvenation procedure.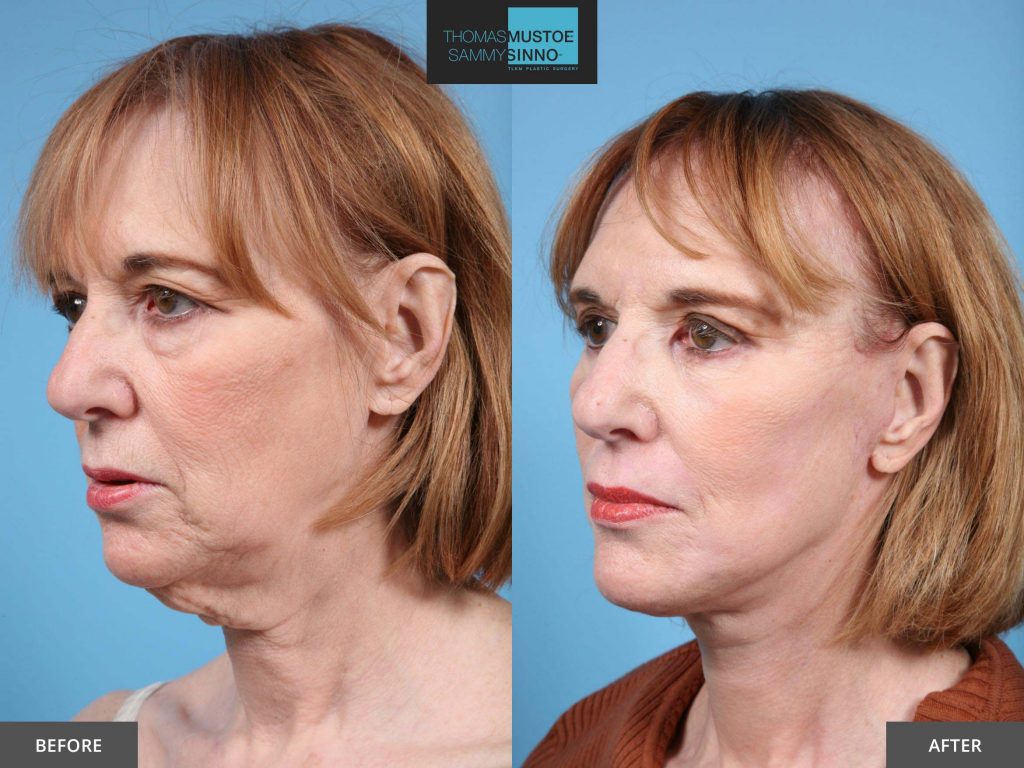 Transforming the Neck
This man's facelift by Dr. Sammy Sinno shows the power of combining a facelift with a neck lift. This man looks younger, healthier, and trimmer after removing excess tissue on his neck and lifting the tissues of his lower face. While surgeons perform facelifts and neck lifts essentially the same way for men and women, Dr. Mustoe and Dr. Sinno place special emphasis on maintaining masculine facial features for their male patients. Learn more about the differences between a facelift and neck lift in this blog post.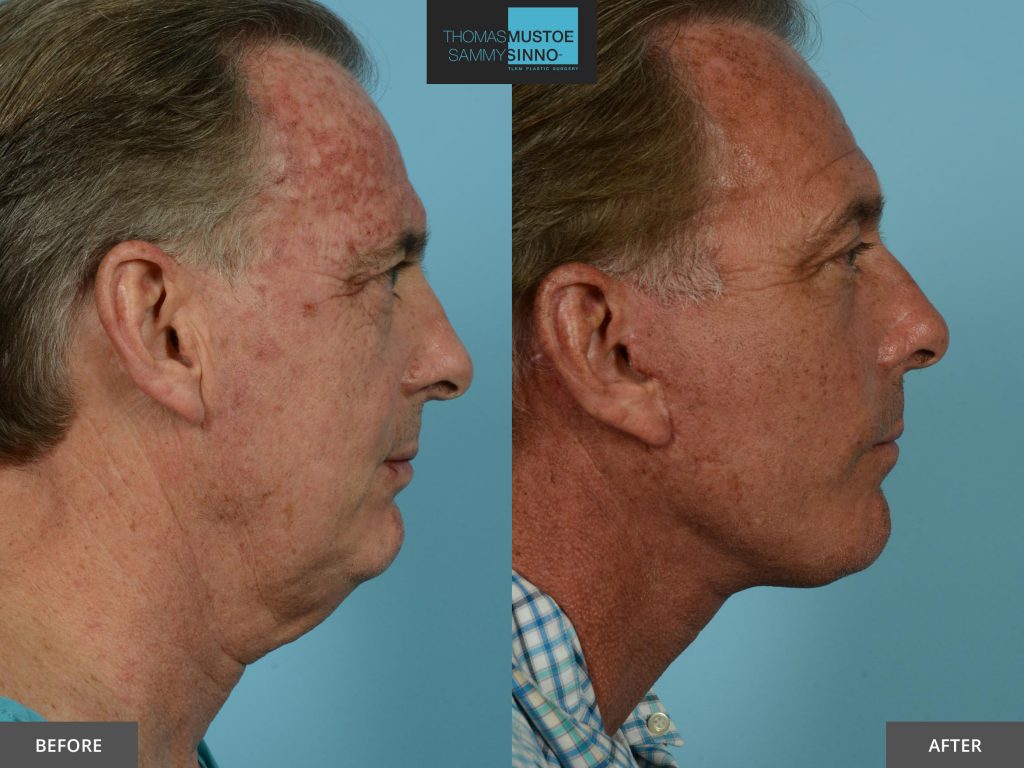 Defining the Chin
This facelift by Dr. Mustoe addressed one of the most common signs of facial aging: descending tissues in the lower face that create the appearance of jowls. The procedure subtly transformed her square facial shape into more of an oval or "V" shape by lifting excess skin and fat on the lower face, defining the chin, and firming the jawline.
Slimming the Lower Face
This woman's facelift by Dr. Sinno had a slimming effect in addition to a lifting effect. Repositioning tissues on her lower face and lifting the underlying structures enhanced her cheekbones, defined her jawline, and gave her face a more sculpted and contoured appearance.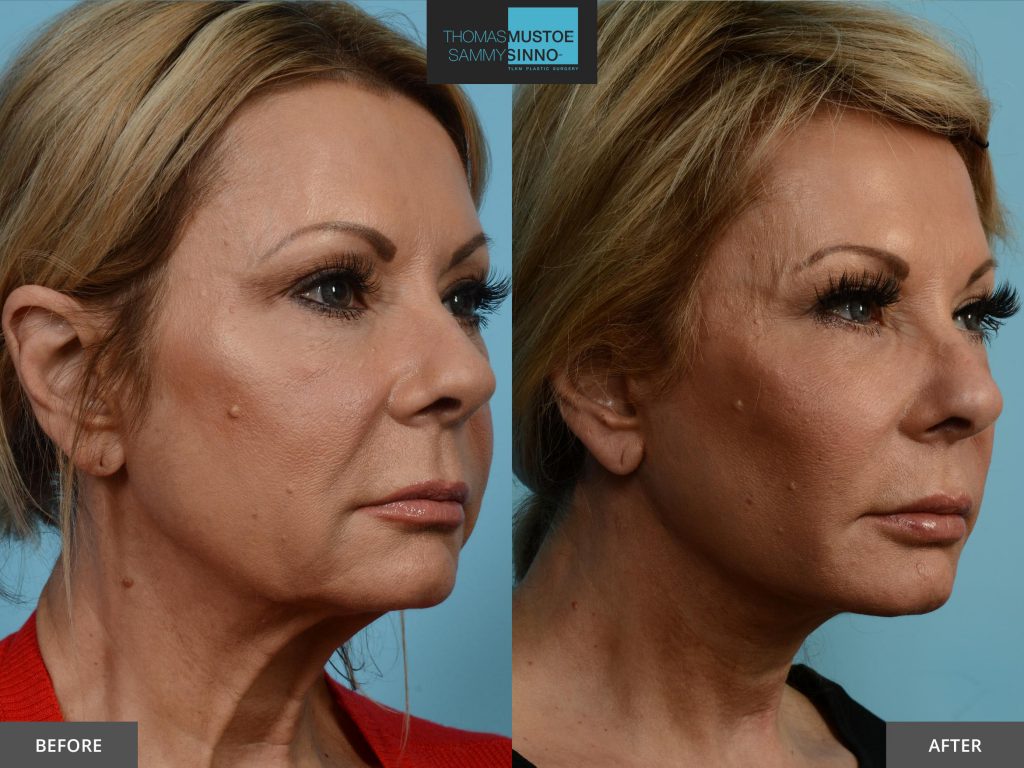 To see these cases and more, please visit our before-and-after photo gallery.
You deserve nothing less than the best, and our plastic surgeons in Chicago deliver that. Learn more about your facial rejuvenation options from Dr. Mustoe and Dr. Sinno. Contact us online or call (312) 788-2560 to get in touch.