After making the exciting decision to get rhinoplasty surgery, waiting for the results can test your patience. Unlike many other cosmetic surgery procedures that produce results soon after the procedure, rhinoplasty results emerge gradually for several months.
Even though rhinoplasty patients typically return to work, school, and everyday activities about 7 days after their surgery, it takes much longer for residual swelling to resolve. The appearance of the nose will continue changing, as well. The results you can expect to see after 1 month versus 1 year are quite different.
The Big Reveal
The first time patients see their initial results is when the surgeon removes the nasal splint about a week after the surgery. This appointment can be quite dramatic. It's the first time a patient sees their new nose. There are multiple reasons for someone wanting to change the appearance of their nose, including:
Narrowing a wide bridge
Refining the shape of the tip
Smoothing bumps or indentations
Reshaping large, wide, or upturned nostrils
Decreasing the overall size of the nose
Some patients can be overcome with emotion when they see their initial results, even though swelling is still noticeable.
Rhinoplasty Results at 1 Month
Four weeks after nose-reshaping surgery, you can expect swelling to continue to mask the final results of the procedure. It often takes 6 weeks or more for the swelling to resolve enough to give you a more accurate assessment of the final outcome. This time frame also depends on whether the procedure was an open or closed rhinoplasty. Open rhinoplasty involves making an incision along the thin strip of skin that divides the nostrils, called the columella, and lifting the skin to expose the nasal structures. It can take longer for the swelling to resolve if the surgeon uses this technique.
Your nose at this stage of healing is still very vulnerable if it is accidentally struck. So it's important to avoid situations where the risk of an accident is greater, such as participating in contact sports.
Rhinoplasty Results at 1 Year
When you're looking at yourself every day in the mirror or on video meetings, it might be difficult to see the gradual changes occurring for months after your rhinoplasty procedure. If you take a photo of your results at 1 month and then compare it to what your nose looks like at 1 year, the changes will be significant. Twelve months after surgery, all residual swelling should be gone.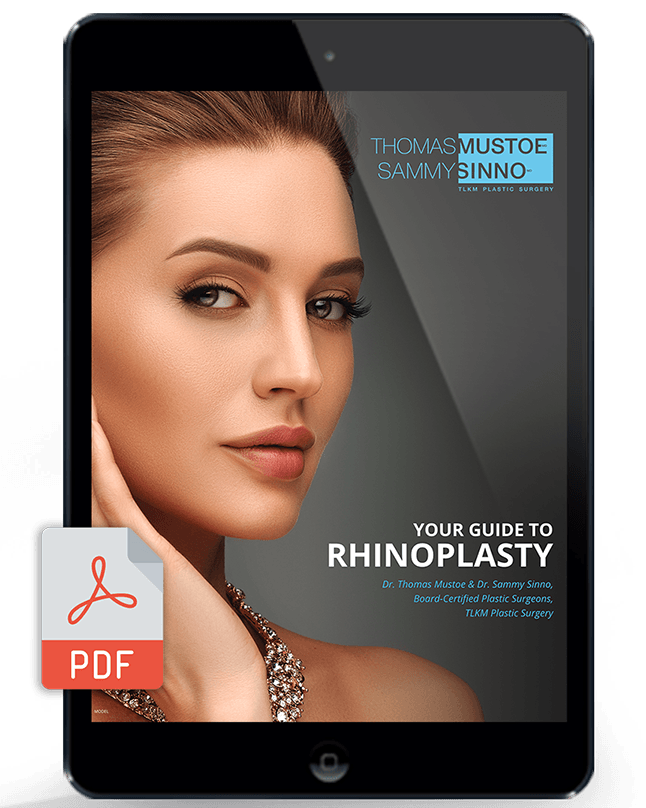 Your Guide to Rhinoplasty
Download Our Complimentary e-Guide
Ready to start your journey to your best nose? Get all the information you need about rhinoplasty when you download our free e-Guide, Your Guide to Rhinoplasty. Inside, you will find answers to all your questions about nose surgery, from how to be sure it is right for you to what to expect before, during, and after surgery.
Rhinoplasty is considered the most difficult cosmetic surgical procedure to perform. It's important to choose a board-certified plastic surgeon who specializes in the surgery, which requires delicate technique and a refined aesthetic sense. You can learn more about the procedure by requesting a consultation with either Dr. Mustoe or Dr. Sinno using the online form. Or call our Chicago practice at (312) 788-2560 to schedule an appointment.