As you search for the best rhinoplasty surgeon in Chicago or any other city, looking at before-and-after photos is one of the most important ways you can assess a surgeon's skill and experience. Ideally, your surgeon's gallery will show plenty of examples of real people like you who have undergone a "nose job" to correct the same concerns you are facing and who have achieved results you would be happy about, too.
In a previous blog post, we discussed all the precise ways nose surgery improves the shape and structure of the nose to create better functionality and a more harmonious appearance. In this post, we share a few of our favorite cases highlighting all that is possible with rhinoplasty. Scroll through to see examples of the transformations board-certified plastic surgeons Dr. Thomas Mustoe and Dr. Sammy Sinno have created for people just like you.
Elevating the Tip of the Nose
Some nasal tips are bulbous and heavy, and others have a naturally hooked or drooping appearance. Lifting the tip creates a more proportional and youthful look. Dr. Mustoe and Dr. Sinno often combine this correction with a dorsal hump reduction to emphasize the tip's lift.
Case #214 – Dr. Mustoe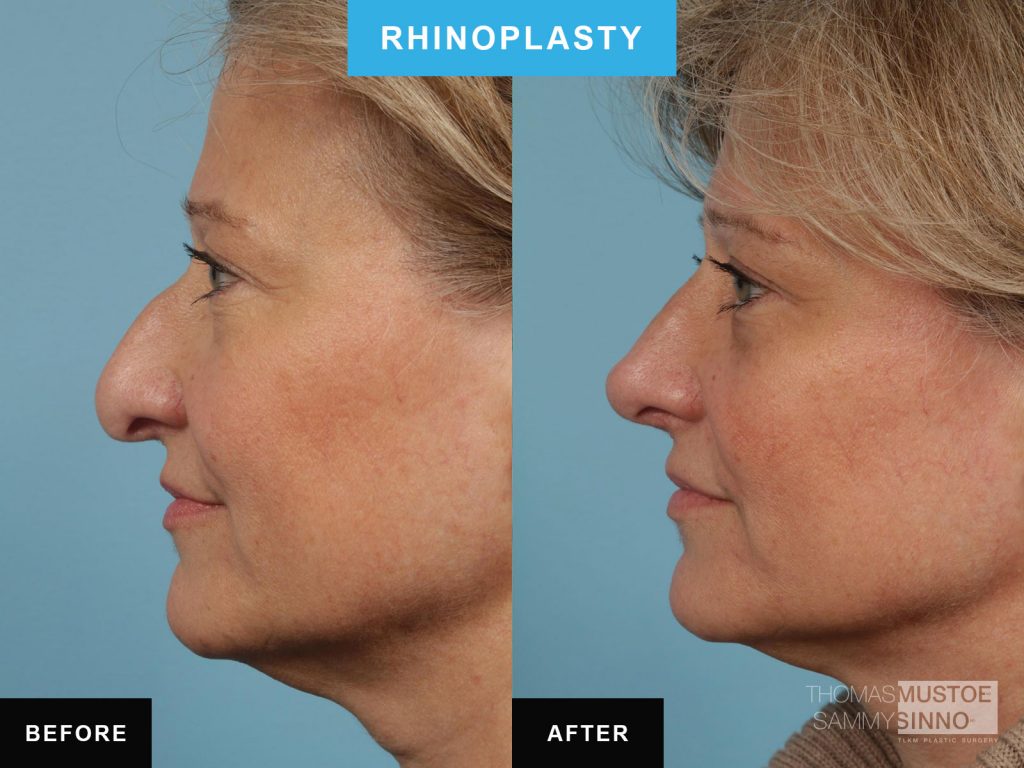 Case #669 – Dr. Sinno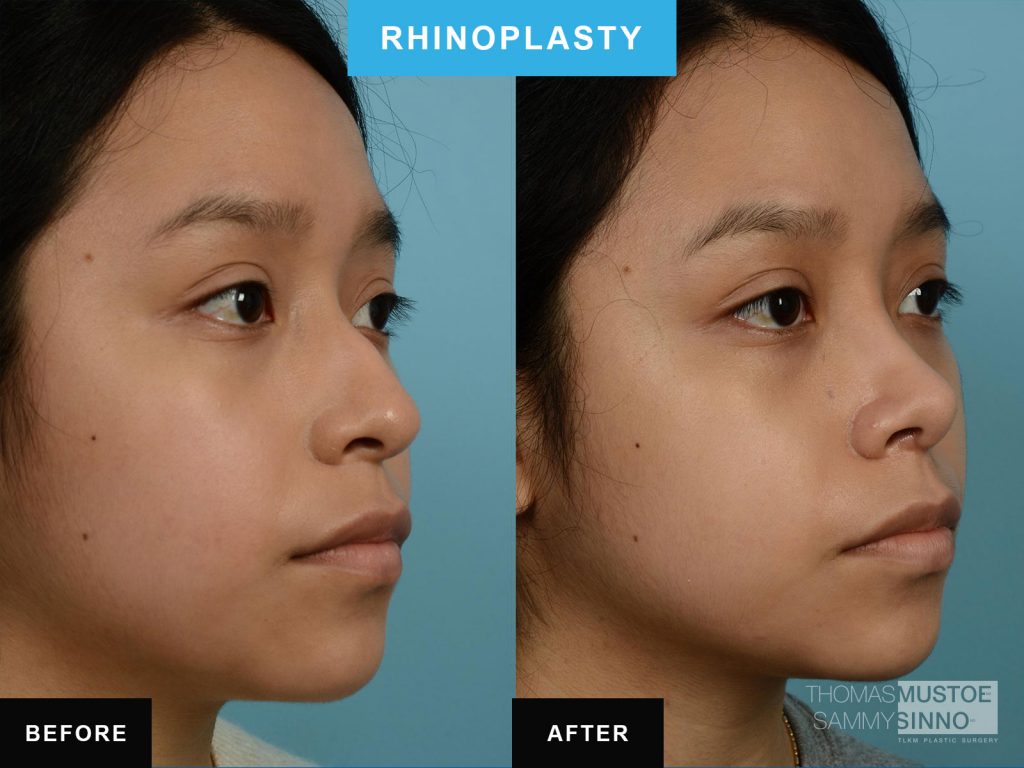 Removing a Dorsal Hump
Removing excess cartilage in the bridge of the nose reduces the size of a bump on the nose's bridge, also called a nasal hump. This makes the nose appear smaller, straighter, and more proportional with the rest of your face's features.
Case #577 – Dr. Mustoe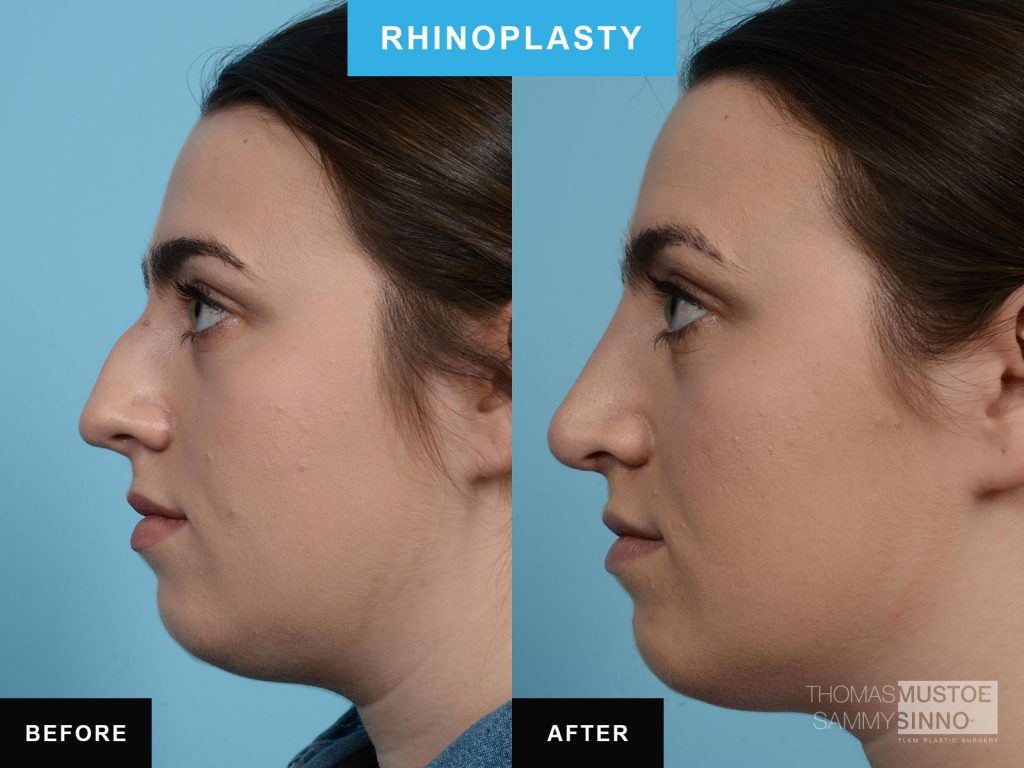 Case #670 – Dr. Sinno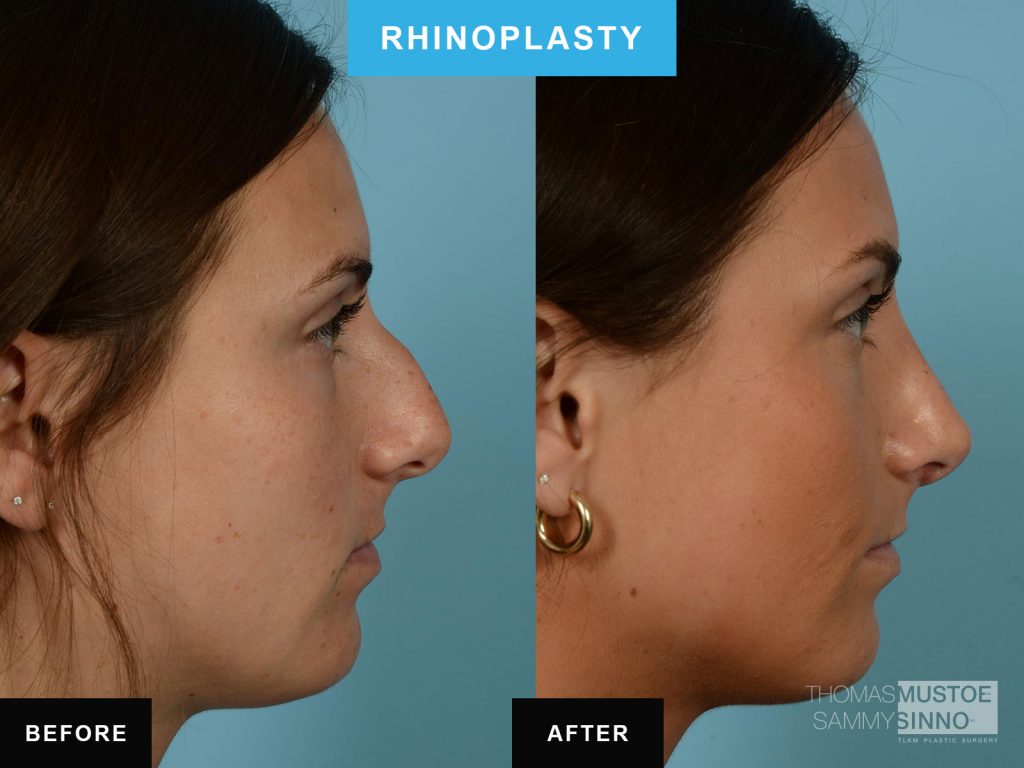 Narrowing the Nasal Bridge
A wide nasal bridge often makes the nose appear disproportionately wide or large. Narrowing the nasal bridge by reducing or adjusting the underlying cartilage creates better definition in the bridge. This nose surgery is often combined with dorsal hump reduction or a tip plasty to reduce the size of the nose overall.
Case #586 – Dr. Mustoe

Case #663 – Dr. Sinno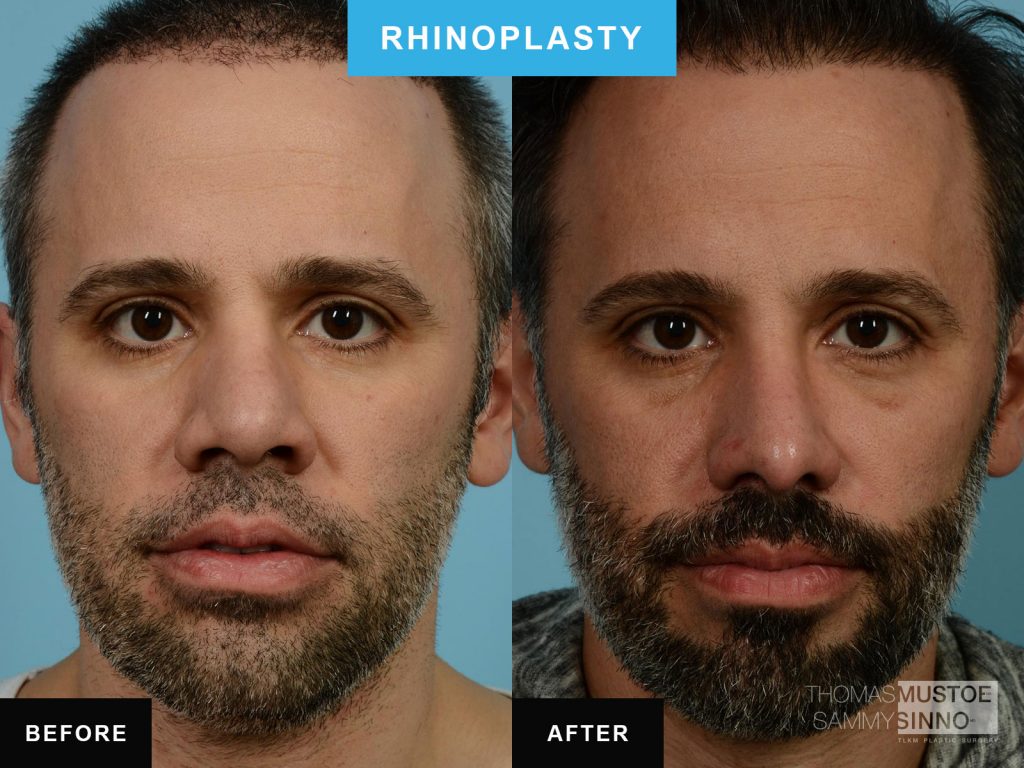 Straightening the Nasal Bridge
Whether as a result of genetics or an injury, a crooked nasal bridge may create asymmetry in the face and may even lead to breathing issues. Surgery to straighten the nasal bridge often corrects asymmetry in the nostrils, improving breathing and achieving a more harmonious facial appearance.
Case #45 – Dr. Mustoe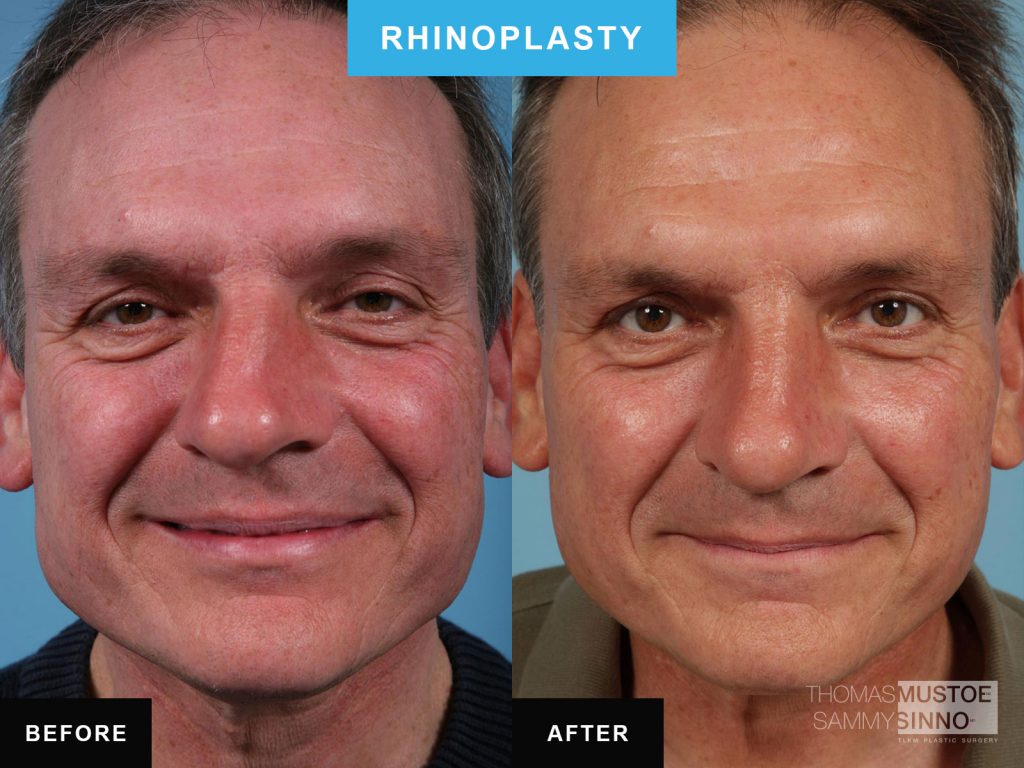 Case #703 – Dr. Sinno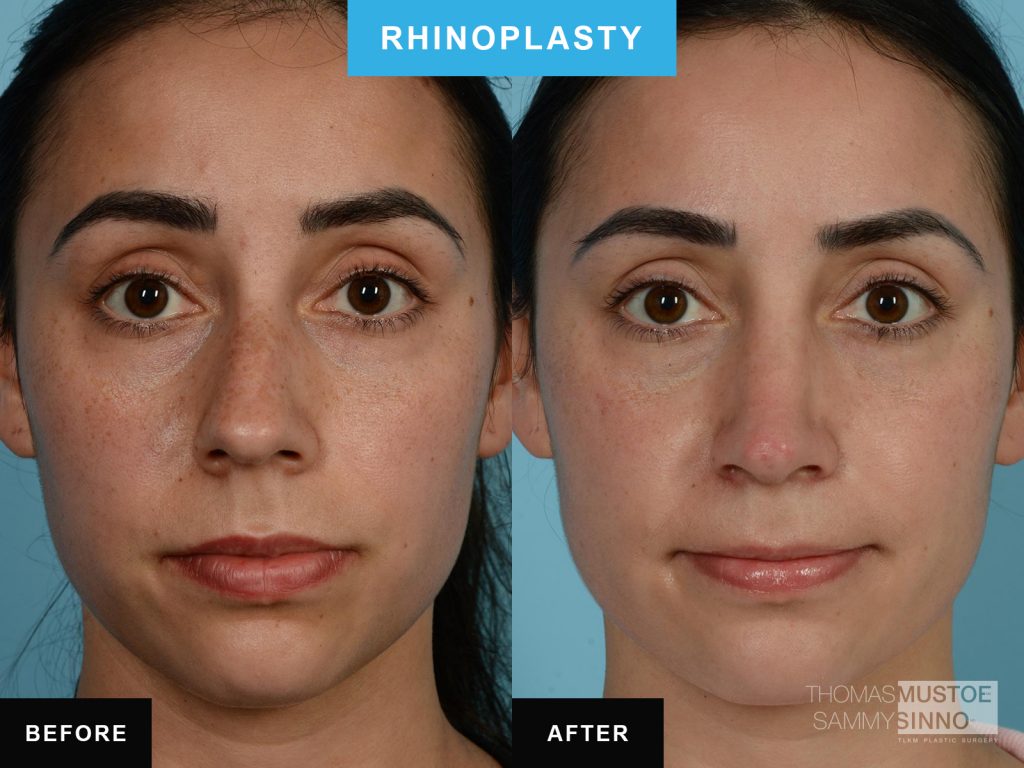 Customizing Your Rhinoplasty
While these cases represent a few common nasal concerns, it is important to remember that your rhinoplasty procedure should be fully customized to address your unique concerns. Achieving your ideal nose often means correcting multiple concerns to varying degrees. For results that suit your unique features and look subtle and natural, it is best to work with a rhinoplasty specialist who has extensive experience performing surgery on noses of all shapes and sizes.
To see even more examples of what is possible with rhinoplasty, please visit Dr. Mustoe's before-and-after photo gallery and Dr. Sinno's before-and-after photo gallery.
If you would like to learn more about achieving your dream nose at our plastic surgery practice in Chicago, please contact us online or call (312) 788-2560.